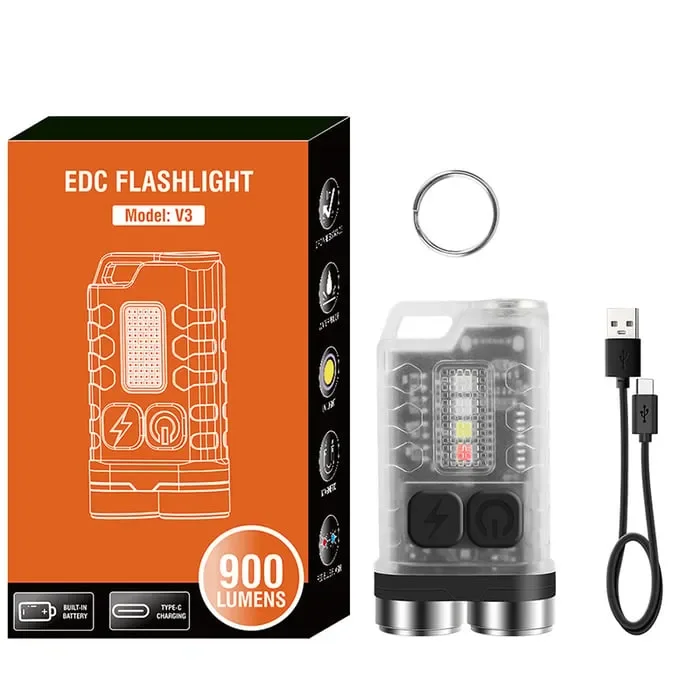 🎁💐Don't forget to get some for your family and friends as it's a unique gift idea.
Super Bright + Long Range √ The bright flashlight use 2 powerful LED beads, brightness of up to 900 lumens, Irradiation distance of up to 328ft (100M). Adopt a double lamp design, making the lighting effect and the lighting distance more powerful.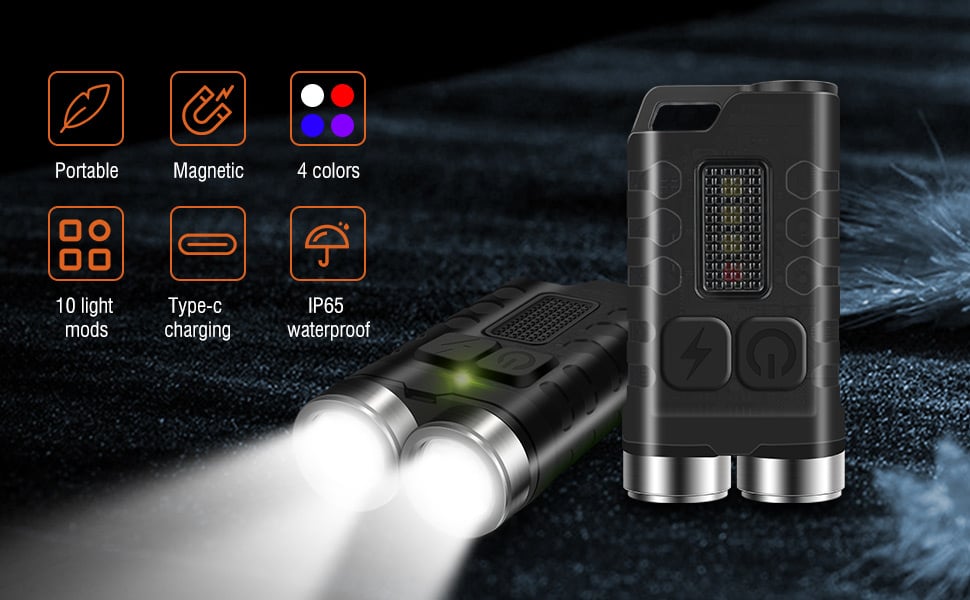 10 Lighting Modes√ Our keychain flashlights have 5 modes on the main light (Turbo-high-medium-low-economic), and 5 modes on the side light (white-UV-red-red flash-red blue flash). The LED high mode of the small flashlight is very bright and the spot beam is wide. Even if you change to low mode, which is enough for your daily using and working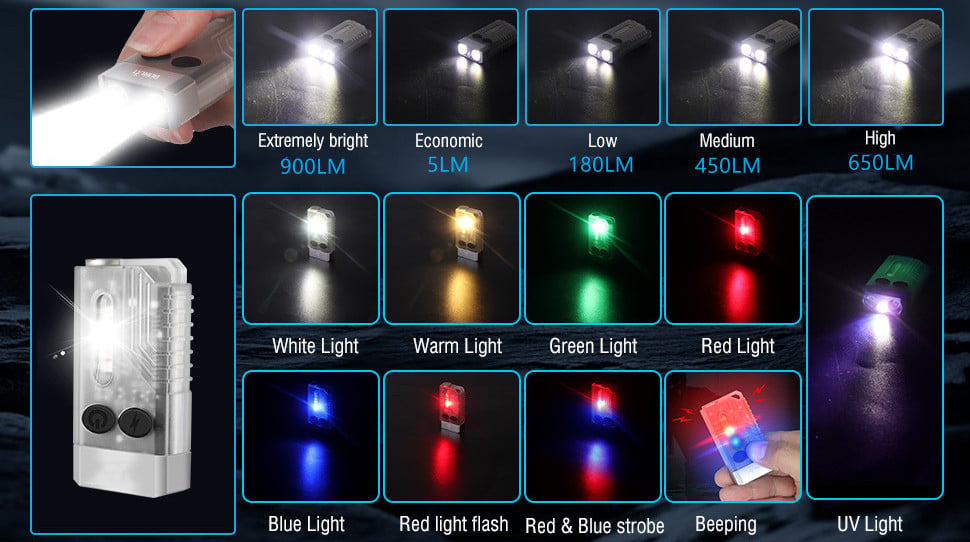 A small flashlight is easy to use, carry, and store, Very suitable for emergencies, hiking, tourism, car repair, etc.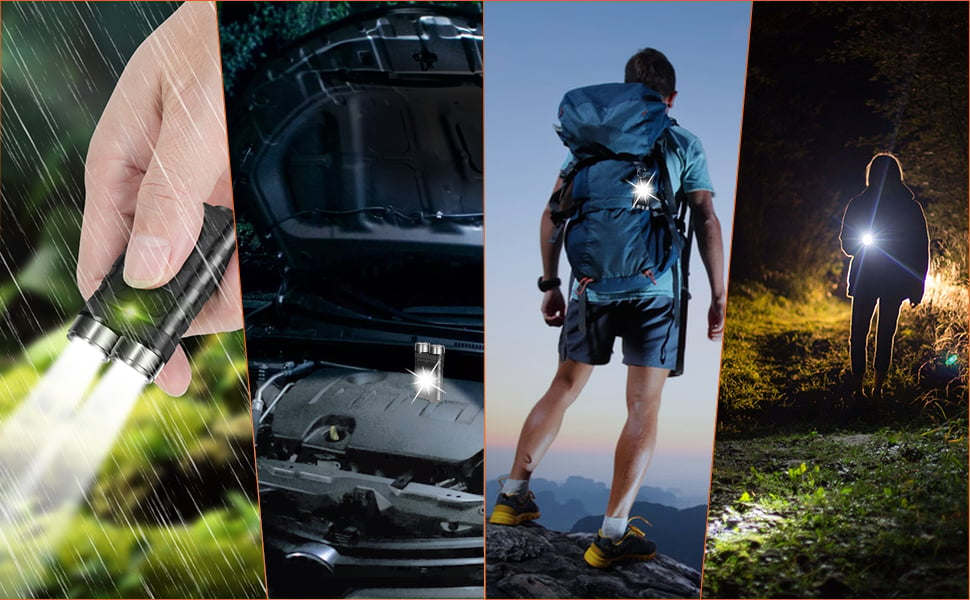 Light source: 2 * LED + 1 * 365nm UV + red yellow blue green beads
Lumen: super bright 900LM, high bright 650LM, medium bright 450LM, low bright 180LM, micro bright 5LM
Main light switch: extremely bright (long press the main light switch to turn on, release to turn off). Double-click the main light switch j into the constant light mode, click to switch the brightness
Sidelight switch: double-click the side light switch to enter the constant light mode, click to switch y color light
UV light switch: three clicks of the side light switch
Buzzer: Long press the side light switch buzzer sound, while the warning light flashes, Buzzer decibel: 80DB
EDC flashlight using USB C fast charging, up to 2.5 hours of use in the brightest mode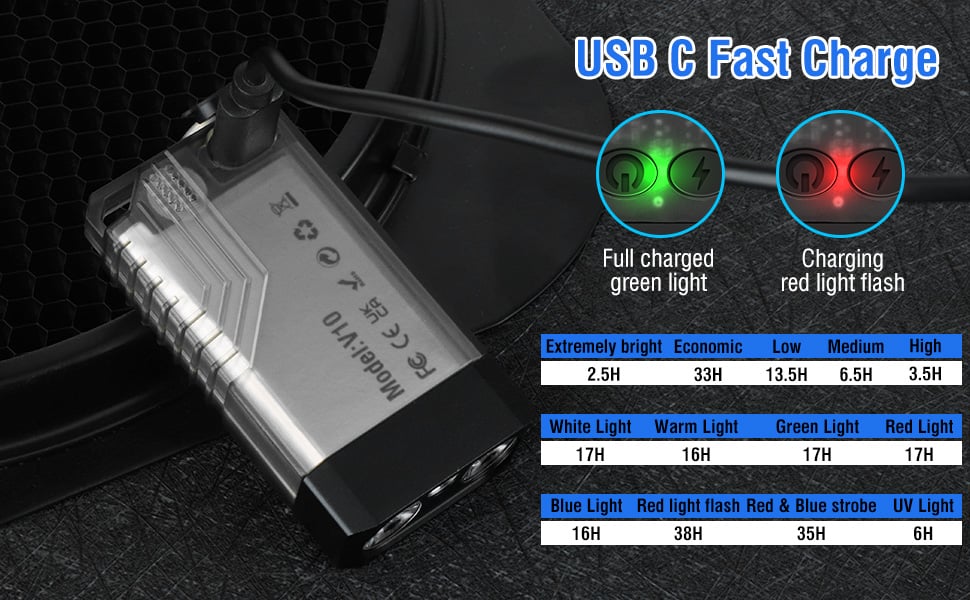 Main light duration: super bright (2.5H), main light high bright (3.5H), medium bright ( 6.5H), low bright (13.5H), slightly bright (33H), UV (6H)
Sidelight duration: white light (16H), yellow light (16H), green light (17H), red light (17H), blue light (16H), red flash (38H) - red and blue flash (35H)
Charging time: 2.5-3H
Charging display: charging red, full green light
Power display: on light green light for 5 seconds, voltage below 3.0V light red, below 2.8V flashing, below 2.7V off
Battery capacity: 500 mAh
Charging interface class: USB C
Charging voltage: 4.5V-5V
Pocket flashlight is equipped with a magnet, and keychain, and can be used on many occasions, in a variety of wearing ways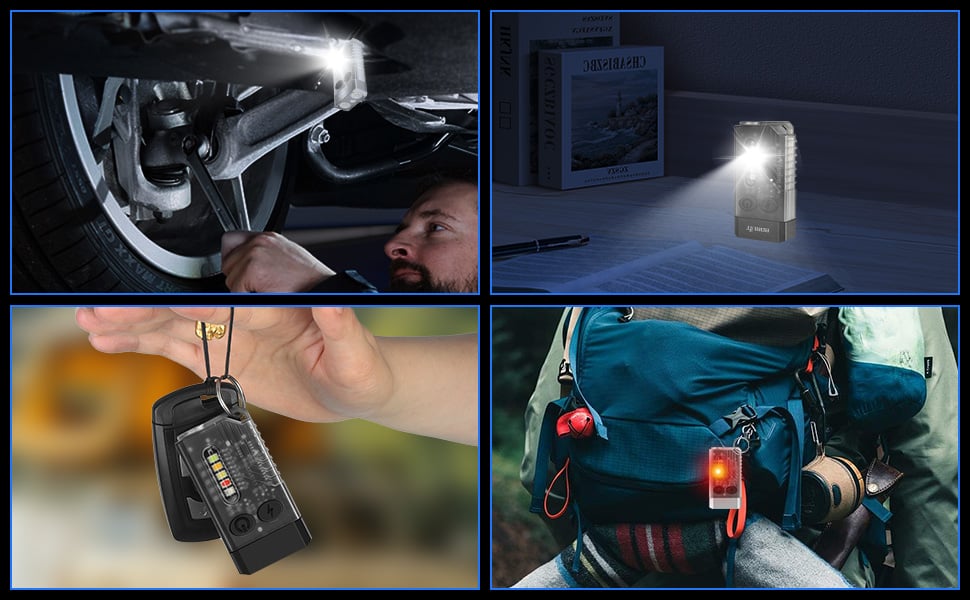 Mini keychain rechargeable LED flashlight
Model: V3; Material: PC+304b stainless steel
Brightness: 900LM; Color temperature 6500K
Light source: LED; Charging time: 2.5H
Charging interface type: TYPE-C; Charging voltage: 5V
Waterproof grade: IP65; Irradiation distance: 100 meters
Product Net Weight: 33g; Product gross weight: 70G
Product size: 15*31*56MM