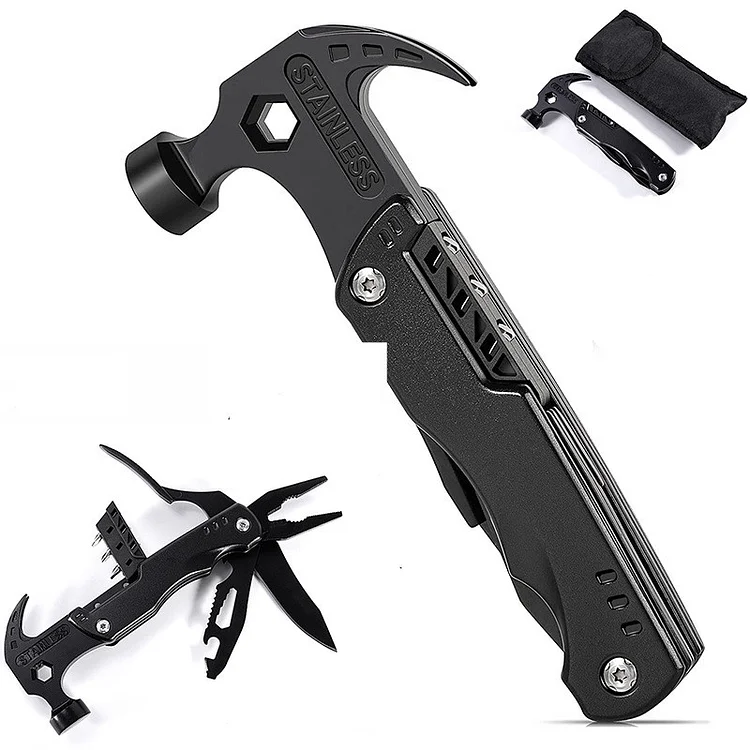 Are you tired of carrying a large tackle box every time you need to make a minor repair?
The Multitool is ideal for quick home repairs or if you're a camper who needs a small but handy tool in your backpack. One item with multiple uses saves space and is easy to transport. This Portable 14 In 1 Multitool Claw Hammer™ will take care of everything for you. It includes fourteen useful tools in one hammer, which is also frequently used in daily life. Because it is so small, you can keep it in your car, backpack, office, or pretty much anywhere. The hammer multitool is made of high-quality stainless steel, and the tool's ergonomic design makes it easy to use. When you need it, it can solve the problem, and it is a must-have tool for any emergency.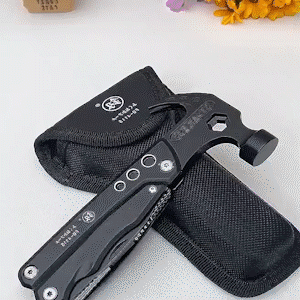 Why should you have this Portable 14 In 1 Multitool Claw Hammer?
✅ All In One Multi-Tool: It is 14 in 1 survival toolset that includes a magnetic bit, a hang hole, a hammer, a knife, a saw, a can opener, a large and small hexagon wrench, a corkscrew, a clamp, strong pliers, cutting pliers, a screwdriver head, a nail puller, wire cutting pliers, a corkscrew, and a can opener.
✅ Heavy Duty & Durable: It is made of high-quality stainless steel and has a durable black oxidation coating on the surface. It is strong and long-lasting, corrosion-resistant, and does not rust easily. It can be used for an extended period of time.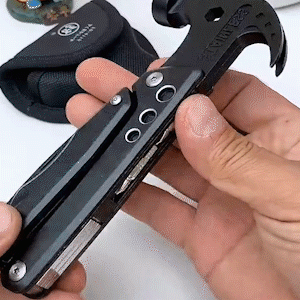 ✅ Perfect Emergency Tool: The multi-tools can be used for hiking, outdoor activities, mountain climbing, camping, fishing, broken windows, emergency escape, handwork, and so on. In an emergency, the multi-purpose tool can easily be used to break the glass.
✅ Easy to Carry: When folded, this emergency tool is very lightweight and small. It is simple to store in your car or in your jeans pocket. It's also small enough to fit in your travel bag. The surface of the multi-tool is matted, making it difficult to slip off while in use.
✅ Practical Gift: Forget about cups, pillows, and other mundane gifts for your father, brother, son, boyfriend, or husband. As a gift for him, select this camping hammer. Almost all of the tools required for daily and camping field operations are included in our multipurpose tool.
Specifications:
Material:

 Stainless Steel 

Color:

 Black 

Size:

 

160x75x30mm/6.3x3x1.2inch 

Net Weight:

 

386g/13.6oz