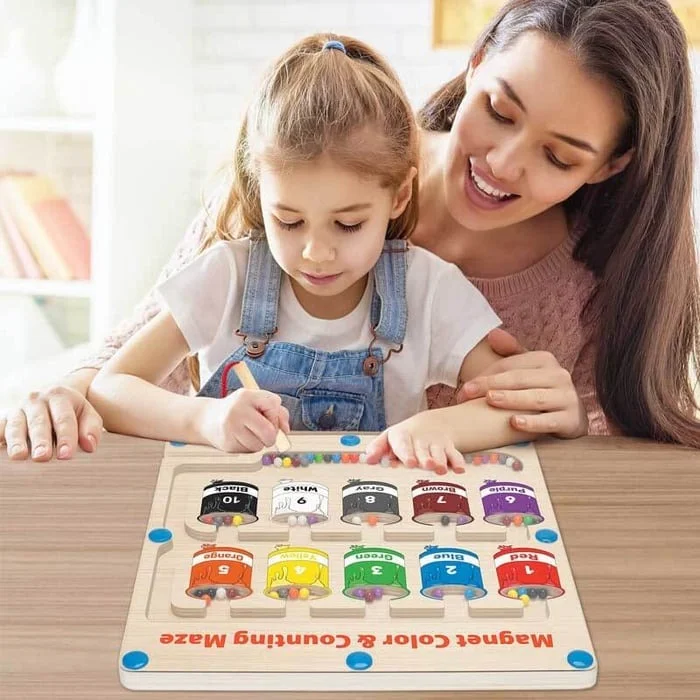 Features:
Color Sorting & Count - Magnetic color maze toy contains 75 magnetic beads in 10 different colors, kids use the magnetic stick to move the beads through the maze and put them into each paint pot, great for kids to develop fine motor skills as well as sorting colors and counting. Sorting toys for toddlers 1-6;
Magnetic Counting and Matching - Counting toys for toddlers 1-6. Numbers 1-10 are printed on the paint bucket, kids use the magnetic pen to move the beads from the track to the paint bucket. Magnetic puzzles can practice color matching and counting skills while developing patience and concentration;
Montessori Toys for Kids Ages 1+ - Magnetic color maze board lets kids practice counting, color recognition, hand-eye coordination, and fine motor skills while playing;
Sturdy and Safe Construction - Magnetic maze measures 11.8" x 11.8". Made of hardwood, polished smooth, and round to protect children's hands. Magnetic pen attached to the board for easy storage. The high-quality acrylic plate makes the plate strong and durable, adding rivets makes the top permanently sealed, and the magnetic beads will not fall off and cause harm to children;
Perfect Gift for Preschoolers - Magnetic puzzle perfect gift for toddlers and kids aged 1-6. Learning educational toys for preschool classrooms must-haves. Ideal for birthdays, Christmas, New Year, or any holiday party.
Size&Package: