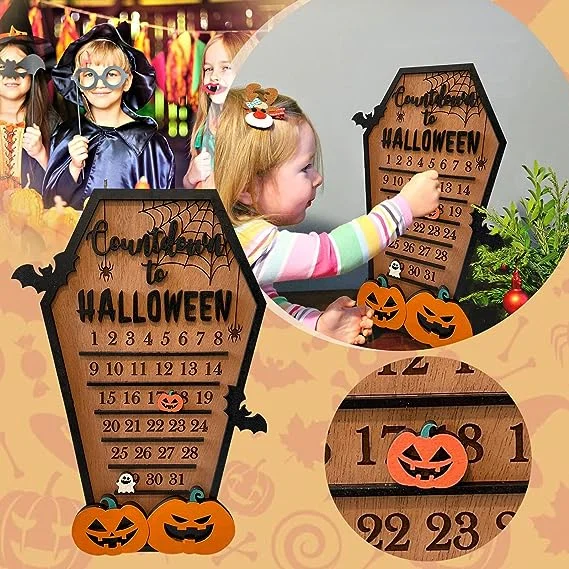 🎉 Bring Halloween to life with our festive advent calendar - your ultimate countdown companion!🎉

Adults And Children Like Look Forward To Our Advent Calendar! Let's DIY Manually Move The Little Wooden For This Holiday Calendar.
When We Cover The Dates With Small Wooden, We Are More Enthusiastic About The Anticipation And Arrival Of The Holidays, And Also Represent How Seriously We Take Halloween And Christmas!🎃🎃🎃
You Can Place It On The Table Top, Chair, Cupboard, Cupboard, Or any Anywhere You Want. Perfect For Halloween, Christmas Parties, Kids' Parties, And New Year's Parties, It's An Easy Holiday Addition And A Great Holiday Gift For Relatives, Friends, Classmates, And Loved Ones, So Start Your Halloween-Christmas Countdown With Some Spirit And Excitement Bar!
DIY Countdown To Welcome The Beautiful Halloween, You Can Manually Feel Their Arrival, Approaching Halloween, Welcoming Halloween, Cutting Wood Materials, The Calendar Presents Three- Texture In Many Places, And A Sense Of Advanced Design! Your Friends, Neighbors, And Family Will Love This Holiday Countdown Calendar!
Explore The Fascinating World Of Halloween In The Calendar, DIY Handmade Countdown To The Festival, and Ingenious Design Let This Halloween, Halloween Come Slowly As We Look Forward To It! Three-Cut Calendar Countdown Ornaments! Amazing!
🎁💐 Don't forget to get some for your family and friends as it's a unique gift idea!