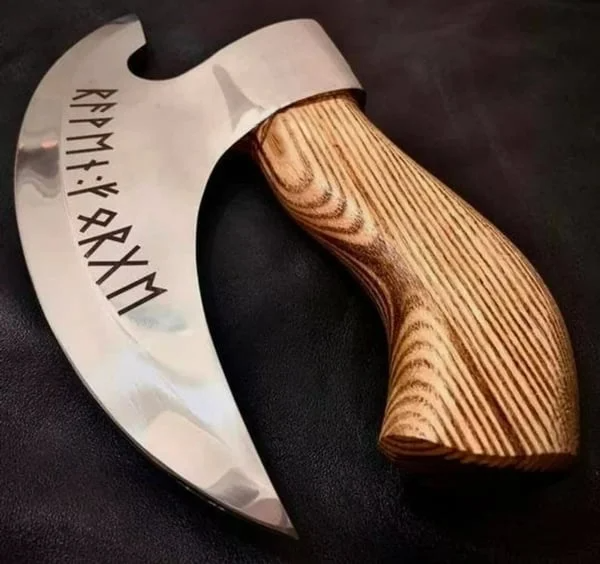 🎁💐Don't forget to get some for your family and friends as it's a unique gift idea.
This striking AX features a stunning stainless steel blade in a beautiful hand-forged pattern. The high-quality and durable blade build makes its edge sharp enough to fall resilient tress effortlessly. 

The blade is HRC 58-60 hard, and we also sharpen it by hand on a sharp edge. The handle is made of wooden material and comes with a premium leather sheath, making it a cherished package.
---FOR ENGRAVING---
For engraving, we use the etching metal method in saltwater to put drawings, words, or symbols on the Axe so they can't be erased even after 100 Years making this Axe a life-long asset for you.
Runes on blade Meanings
Each Rune has its own meaning! From left to right, it's (ride, journey, change) (leader, justice) (joy, success) (horse, motion, energy, power) (need, responsibility) (wealth, prosperity) (legacy, property, inheritance) (ride, journey, change) (gift, love, marriage) (horse, motion, energy, power).
Specifications
Weight: 200g
Length: 14cm
Blade length: 15cm
Handle length: 10cm
Blade material: 440 Stainless steel
Handle material: wooden
Sheath Material: Leather.
Technique: Handmade
Package Contents:
- 1 x Axe
- 1 Leather Cover