Cardinal Handmade Wood Carving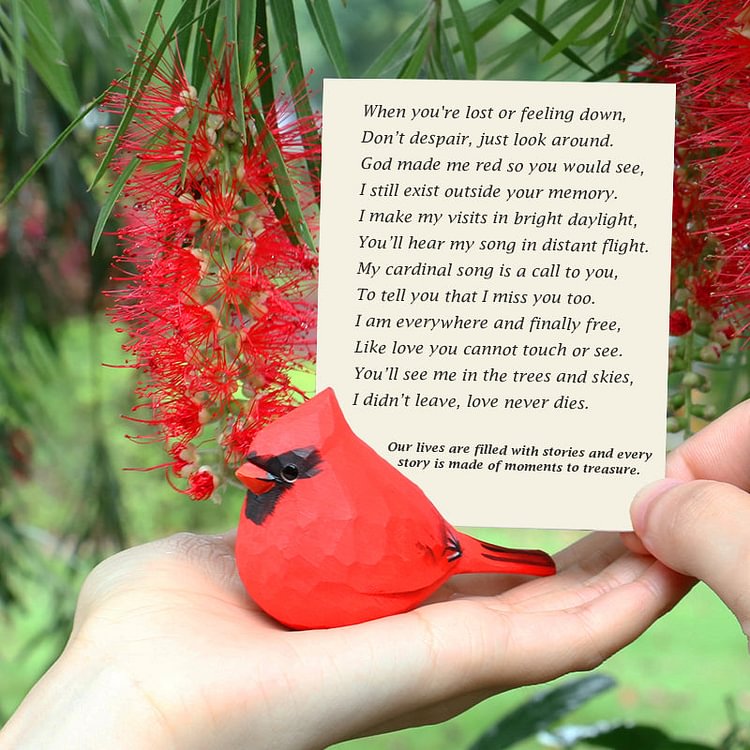 Cardinal Handmade Wood Carving
𝗔 𝘂𝗻𝗶𝗾𝘂𝗲 𝗰𝗮𝗿𝗱𝗶𝗻𝗮𝗹 𝗯𝗶𝗿𝗱-𝗶𝗻𝘀𝗽𝗶𝗿𝗲𝗱 𝗵𝗮𝗻𝗱𝗺𝗮𝗱𝗲 𝘄𝗼𝗼𝗱 𝗰𝗮𝗿𝘃𝗶𝗻𝗴.
Cardinal crafts will make the perfect gift for those missing someone who has passed away but still living in their hearts. We want to be a ray of light and a beam of hope to those who are grieving and remind them that their loved ones will always be with them in spirit.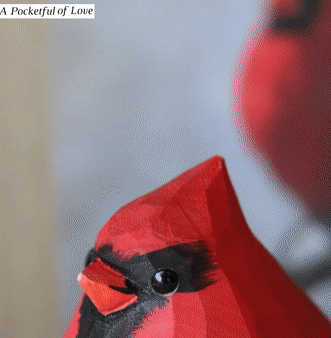 Come With A Sweet Poem Card:
"𝑾𝒉𝒆𝒏 𝒚𝒐𝒖'𝒓𝒆 𝒍𝒐𝒔𝒕 𝒐𝒓 𝒇𝒆𝒆𝒍𝒊𝒏𝒈 𝒅𝒐𝒘𝒏, 𝑫𝒐𝒏'𝒕 𝒅𝒆𝒔𝒑𝒂𝒊𝒓, 𝒋𝒖𝒔𝒕 𝒍𝒐𝒐𝒌 𝒂𝒓𝒐𝒖𝒏𝒅. 𝑮𝒐𝒅 𝒎𝒂𝒅𝒆 𝒎𝒆 𝒓𝒆𝒅 𝒔𝒐 𝒚𝒐𝒖 𝒘𝒐𝒖𝒍𝒅 𝒔𝒆𝒆, 𝑰 𝒔𝒕𝒊𝒍𝒍 𝒆𝒙𝒊𝒔𝒕 𝒐𝒖𝒕𝒔𝒊𝒅𝒆 𝒚𝒐𝒖𝒓 𝒎𝒆𝒎𝒐𝒓𝒚. 𝑰 𝒎𝒂𝒌𝒆 𝒎𝒚 𝒗𝒊𝒔𝒊𝒕𝒔 𝒊𝒏 𝒃𝒓𝒊𝒈𝒉𝒕 𝒅𝒂𝒚𝒍𝒊𝒈𝒉𝒕, 𝒀𝒐𝒖'𝒍𝒍 𝒉𝒆𝒂𝒓 𝒎𝒚 𝒔𝒐𝒏𝒈 𝒊𝒏 𝒅𝒊𝒔𝒕𝒂𝒏𝒕 𝒇𝒍𝒊𝒈𝒉𝒕. 𝑴𝒚 𝒄𝒂𝒓𝒅𝒊𝒏𝒂𝒍 𝒔𝒐𝒏𝒈 𝒊𝒔 𝒂 𝒄𝒂𝒍𝒍 𝒕𝒐 𝒚𝒐𝒖, 𝑻𝒐 𝒕𝒆𝒍𝒍 𝒚𝒐𝒖 𝒕𝒉𝒂𝒕 𝑰 𝒎𝒊𝒔𝒔 𝒚𝒐𝒖 𝒕𝒐𝒐. 𝑰 𝒂𝒎 𝒆𝒗𝒆𝒓𝒚𝒘𝒉𝒆𝒓𝒆 𝒂𝒏𝒅 𝒇𝒊𝒏𝒂𝒍𝒍𝒚 𝒇𝒓𝒆𝒆, 𝑳𝒊𝒌𝒆 𝒍𝒐𝒗𝒆 𝒚𝒐𝒖 𝒄𝒂𝒏𝒏𝒐𝒕 𝒕𝒐𝒖𝒄𝒉 𝒐𝒓 𝒔𝒆𝒆. 𝒀𝒐𝒖'𝒍𝒍 𝒔𝒆𝒆 𝒎𝒆 𝒊𝒏 𝒕𝒉𝒆 𝒕𝒓𝒆𝒆𝒔 𝒂𝒏𝒅 𝒔𝒌𝒊𝒆𝒔, 𝑰 𝒅𝒊𝒅𝒏'𝒕 𝒍𝒆𝒂𝒗𝒆, 𝒍𝒐𝒗𝒆 𝒏𝒆𝒗𝒆𝒓 𝒅𝒊𝒆𝒔."
Let this sweet poem from the deceased give comfort to the ones he or she has left behind - appropriate for wake, gift to send to family, or as a remembrance of a loved one.
Features:
The cardinal represents their loved ones sending them a sign that they will be with them always.
Perfect condolence gift for anyone suffering a close loss. It's a spirit, the cardinal belief has been around for hundreds of years.
You can place this piece anywhere inside your home to remember a beautiful soul that has touched your life but is now in a better place.
Each cardinal is carefully sculpted by our top craftsmen and hand-painted to match nature's beauty.
Due to hand-carving, there is no guarantee that every product will be exactly the same, but don't worry, I will try my best to provide the most perfect product!
Specifications:
Each of our handmade cardinal wood carvings comes with a poem card, with the soulful message from loved ones passed on that they are forever with us.
Size: Male Cardinal: 5.91 X 3.94 X 1.57 inch; Female Cardinal: 5.91 X 3.94 X 1.57 inch; A Pair Cardinal: 5.91 X 3.94 X 2.36 inch.
Weight: Male Cardinal: 1.76 Ounces; Female Cardinal: 1.76 Ounces; A Pair Cardinal:3.53 Ounces.
We Belief:
We believe that the souls of our passed loved ones can manifest in different winged creatures that serve as cardinal and show up to us when we need them the most.
It is our vision to help people heal and connect with loved ones passed on from this physical plane.
We hope that our artistic and soulful pieces and poetry will give you hope and remind you that your love never dies.
Worldwide shipping.

We provide

STANDARD SHIPPING

with flat rate charge of

US$5.99.
After all discounts are applied in most countries and regions, we provide

FREE SHIPPING on orders of US$59.99+.
The order will automatically choose the best transportation method according to your location.
Due to COVID-19 , we are currently experiencing shipping delays around the world. Please expect 3-5 business days for processing the order.

Refund for return can only be issued via the original payment method.
We accept a number of secure and convenient payment methods.
Our whole website on orders of US$49.99+ to enjoy free shipping.
The amount you need to pay includes the order amount and the required shipping cost.

No other expenses are required after the purchase is completed.
PAYING WITH PAYPAL
With PayPal, you can send payment quickly and securely on-line.
Through PayPal, you can pay with credit card, debit card, or bank account balance.
Once your order is submitted, you will be redirected to PayPal's site where you could make the payment.
ADVANTAGES WITH USING PAYPAL:
Payment is traceable. You can trace the status of your payment using your PayPal account. codlins.com doesn't receive your credit card number or bank information (it is safely encrypted through PayPal's server), which limits the risk of unauthorized use.
PAY WITH CREDIT/DEBIT CARD
The available credit card options are listed above.
Read more about our Secure Shopping safeguards and how codlins.com protects your online security.
For any payment queries, our Support Center is always happy to help you and to work together to resolve any issues.
Please note that codlins.com does not collect your credit/debit card number or personal information when you make a payment. For questions regarding your transactions on our site, please consult your card-issuing bank for information.